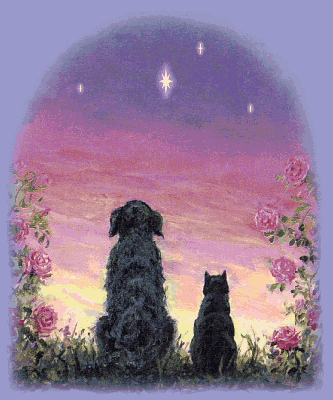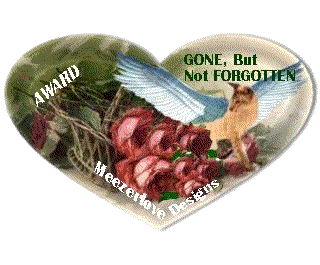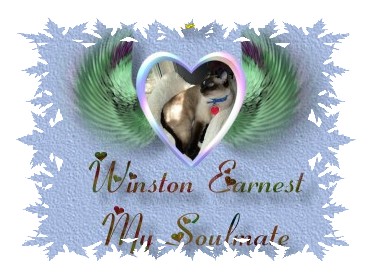 5/15/1989-8/4/2001
Click on Winston
to view his pages.
Just this side of heaven is a place
called Rainbow Bridge.
When an animal dies that has been
especially close to someone here,
that pet goes to Rainbow Bridge.
There are meadows and hills
for all of our special friends
so they can run and play together.
There is plenty of food, water
and sunshine, and our friends
are warm and comfortable.
All the animals who had been ill
and old are restored to health and vigor.
Those who were hurt or maimed
are made whole and strong again,
just as we remember them
in our dreams of days and times gone by.
The animals are happy and content,
except for one small thing;
they each miss someone
very special to them,
who had to be left behind.
They all run and play together,
but the day comes when one
suddenly stops and looks
into the distance.
His bright eyes are intent.
His eager body quivers.
Suddenly he begins to run
from the group,
flying over the green grass,
his legs carrying him
faster and faster.
You have been spotted,
and when you and your
special friend finally meet,
you cling together in joyous reunion,
never to be parted again.
The happy kisses rain upon your face;
your hands again caress the beloved head,
and you look once more into
the trusting eyes of your pet,
so long gone from your life
but never absent from your heart.
Then you cross Rainbow Bridge together....
Author unknown...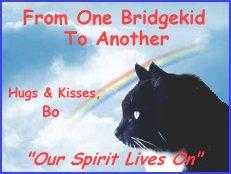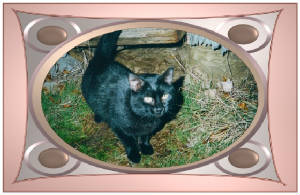 8/11/2000-11/22/2002
All the angels above greeted Miss Birdie
with open arms, Heaven, we know,
just got a little nicer.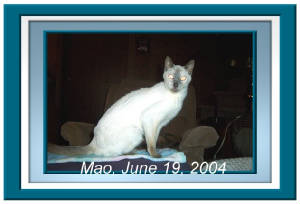 Mao, we loved mew, & will miss mew.
Now mew can play wif Winston
& Poncho, & all the other kitties at the bridge.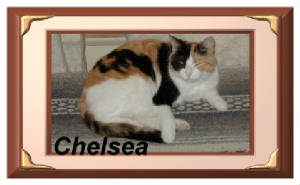 7/19/00-9/27/02
Chelsea, I didn't know mew
long, but I purroud to hab
been mew furriend.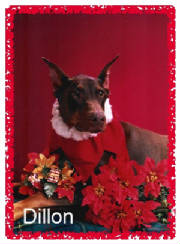 Click on Dillon for beautiful
Version 2 of Rainbow Bridge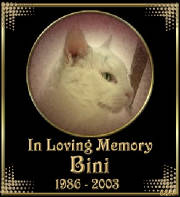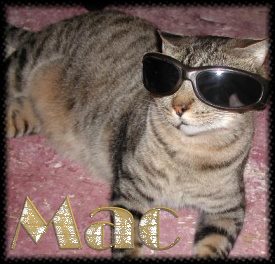 12-18-01--7-16-03
Click on Mac's picture to visit his memorial.
Cat on the Internet
Mac, I never held you in my arms
Or felt your fur against my face.
And yet I loved you and knew you …
Your humor, your love and your grace.
The way you made your human smile
And the way you put her heart at ease.
The way you acted silly
And liked to play and tease.
I knew you Mac and loved you
In a special way it's true.
I came to sense the uniqueness
The loving cat that was you.
You made a lot of friends online
Someday you will meet again
But there will be an empty place
In all of their hearts till then.
Those who say you cannot love
One that you have never met
Have not seen or felt my tears today
Never had it happen to them yet.
And so dear Mac, I cry for you
And I cry for Cass today
Because a cat on the Internet
Touched me in a special way.

Karen Brozina 7/17/03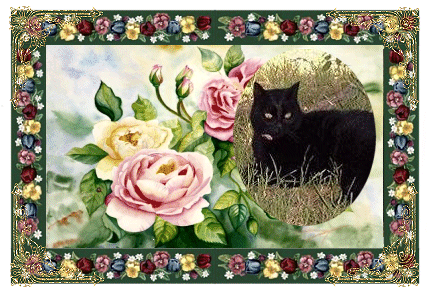 Smokey Girl, Jan. 1993- Dec. 2002
She was one of my first internet furriends.
To see her beautiful tribute
click on her picture.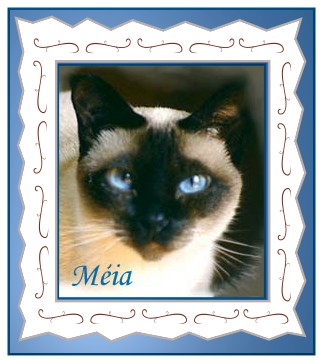 6/28/1990-6/26/2003
Life so fragile,
Loss so sudden,
Heart so broken.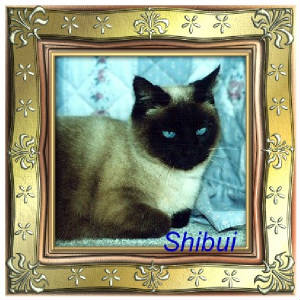 6/1/1986-10/27/2003
Sweet Shibui,
another kitty
for a angel's lap.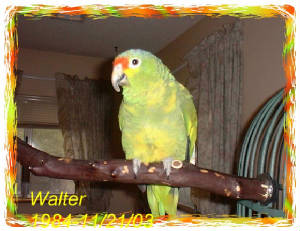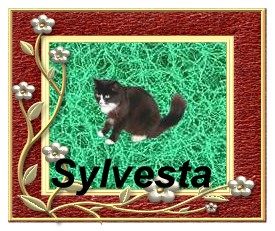 Sylvesta,1994-7/5/02
Gone but never forgotten.
Click on Sylvesta to view her
beautiful wedwink/memorial.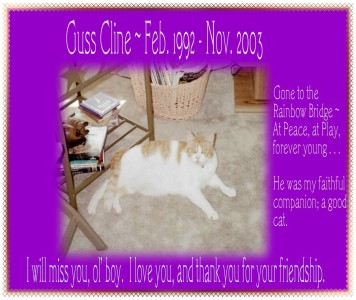 10/05/89-12/09/03
Sam Da Man was about 2 years
old when he was lucky enough
to find his meowmie, Auntie Jackie.
I miss mew, bud.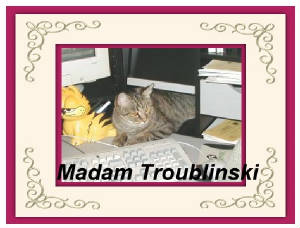 5/15/93-1/13/04
A "once in a lifetime kitty"
A soulmate.
Troubie, mew were one ub
my furst internet furriends,
I will miss mew furry much.
Mew were my hero, bud.We will always miss mew.
Click on Kitkat to go to his memorial page.
Another baby for a angel's lap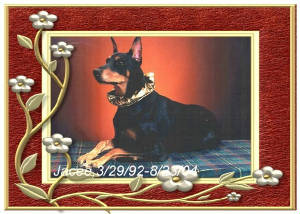 Miss Bridgit's playmate,gone but not furgotten.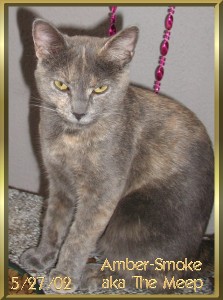 Amber Smoke, missing in 2004, Agent Charlie will always love you.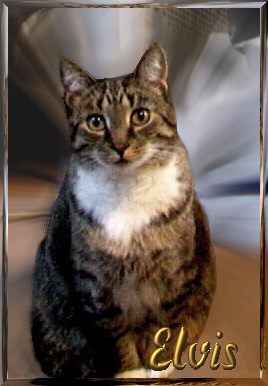 12-14-2004,Today all the angels
welcomed a precious loved one.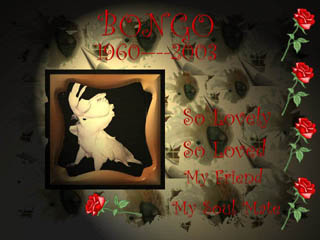 It was love at first sight, the day we met,
It seems like a life time ago,
We were so happy, you and I,
And, Oh I loved you so,
A year ago you left me,
And my heart just broke in two,
Now an endless river of tears,
Is what I cry for you.
Written by Bongo's mom, Sandra.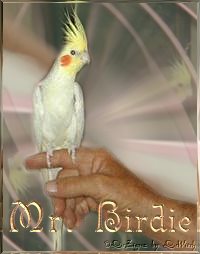 An old friend we will miss very much.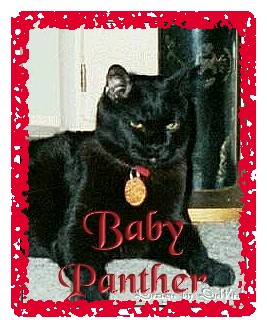 March 17,1990--Jan.13, 2005
Baby Panther, you took a piece of
your meowmie's heart with mew.
Myles was a angel on earth,
now he is a angel in Heaven.
They say memories are golden
well maybe that is true.
I never wanted memories,
I only wanted you.

A million times I needed you,
a million times I cried.
If love alone could have saved you
you never would have died.

In life I loved you dearly,
In death I love you still.
In my heart you hold a place
no one could ever fill.

If tears could build a stairway
and heartache make a lane,
I'd walk the path to heaven
and bring you back again.

Our family chain is broken,
and nothing seems the same.
But as God calls us one by one,
the chain will link again.

Author: An Anonymous Pet Lover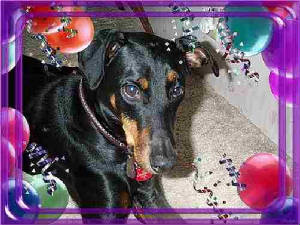 Miss Bridgit Alexis. 10/8/93-7/21/05
Click on Bridgit to see her page.
Another baby for a angel's lap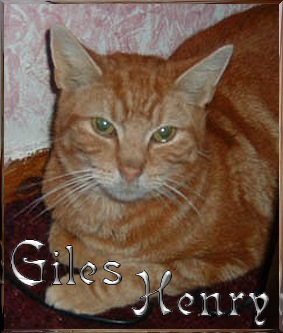 All the angels greeted Giles Henry with open arms.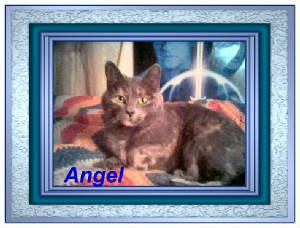 Went missing in May, 2005.We miss mew, Baby Angel.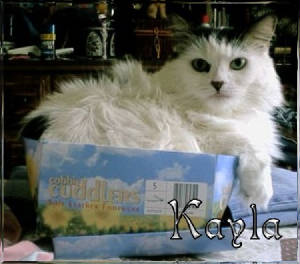 April 1992--August 2005
The angels welcome another loved one.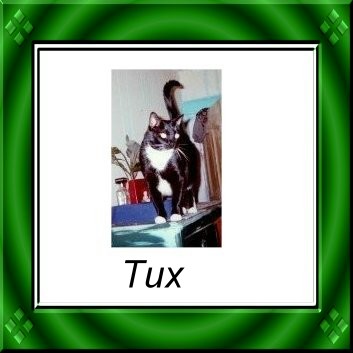 Feb.17,1998-Sept.22, 2005
Tux was my bud fur a long time,
He is on a Angels lap now.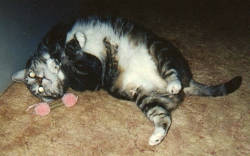 Bambi, the angels welcome another fur angel, Dec.2005